It has been months since
rum_awards
has been fully functional, and being the creator and primary mod I would like to get this community back on its feet.
Nominations for Round 2 are going to continue until we get at least three more entries, or enough nominations. I realize that many people have probably lost interest in the community but I feel that it could be great, if we all just put a little more effort. Even if you have only one icon to post, please do so. Everything helps out the community.
Also, banners would be great for the winners of each round. If anyone is interested in helping to make banners, please comment below.
Seeing as
aftereightmints
and myself have kind of let the community slide downhill, I think it would be a good idea to open co-mod applications once more, for anyone that is interested. I am looking for two more people who would like to get this community going once more. If you are interested, please
leave a comment in the co-mod applications
. If you applied in the beginning, you are more than welcome to apply again.
I would also like to introduce our sister sight, which is not pirate based, but looking for members.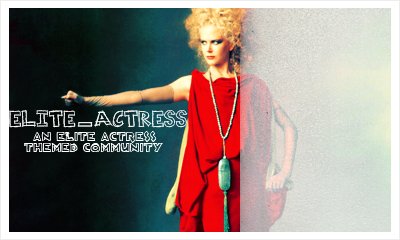 elite_actress is an elite icon community for actress-themed icons. The icons can feature any television or movie actresses: Kate Winslet, Cate Blanchett, Scarlett Johansson, Kate Walsh, etc.
If there are any questions please let me know. If anyone has any suggestions, please direct them to
the suggestion box.